The Bamfield Loop –May 25th, 2013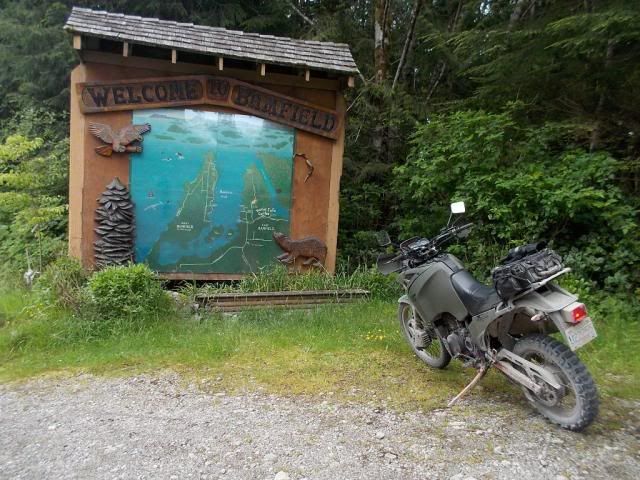 The trip consisted of a drive from Victoria, BC up to Duncan, then west to Lake Cowichan, and the villages of Youbou and Bamfield. From Bamfield it was north-ish to Port Alberni, then east through
Cathedral Grove
to Qualicum Beach to visit some relatives. After a fine supper with them, it was south to home in Victoria.
It was my first road trip with the DR Big and I was looking forward to discovering how she'd perform.
I left home at 0600 to take advantage of the empty roads and to get a jump on the day. I'd never been out to Bamfield before but most of the guides suggested giving yourself a good 2-2.5 hours to get there from Lake Cowichan.
The highway was wet in places from last night's rain and I stopped at the top of the Malahat for nut adjustments and a photo op: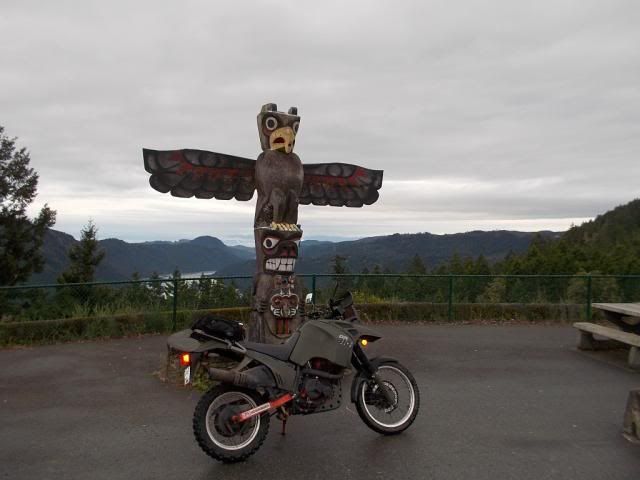 the Malahat totem pole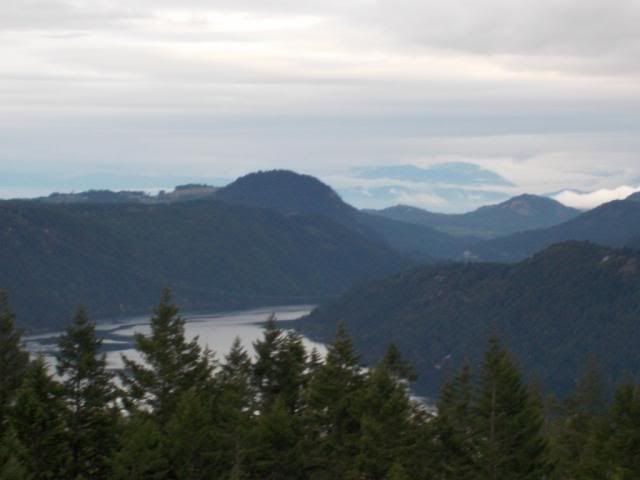 the view south
After that was another quick stop in the village of Mill Bay and then onward through Duncan to Lake Cowichan. The road from Duncan is higher in elevation that one would think and even with my rainpants on I was getting chilled, so after refueling in Lake Cowichan, I made a beeline for their Tim Hortons.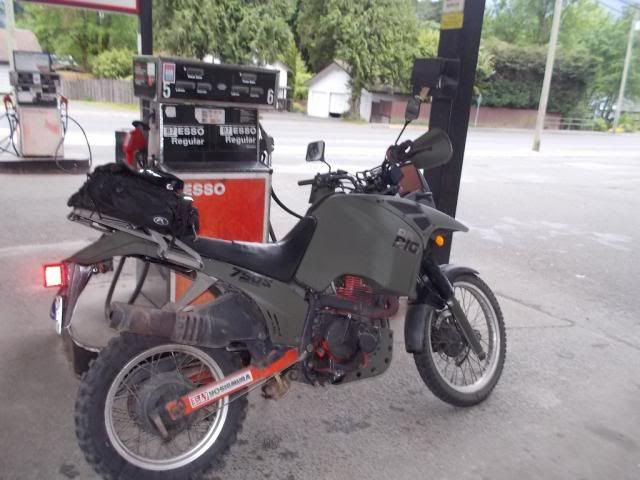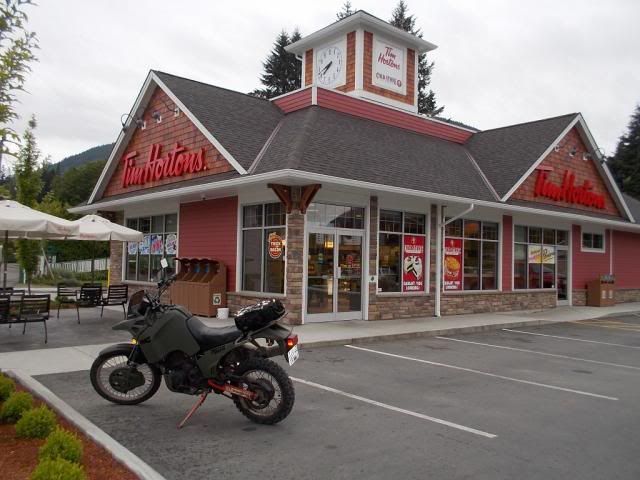 If you haven't been to Canada, you're likely unfamiliar with the Canadian Institution that is the
Tim Hortons
chain of coffee shops. So ingrained in Canadian culture is their Brown & Yellow sigil that if you're in a place without one, you're not in civilization anymore.
After a leisurely half-hour of chasing the chill from my knees, I remounted and continued along the lakeshore, through Youbou (pronounced Yoo-Boe) to The End Of The Pavement. From thereon, it was to be logging roads to Bamfield and then more logging roads to Port Alberni.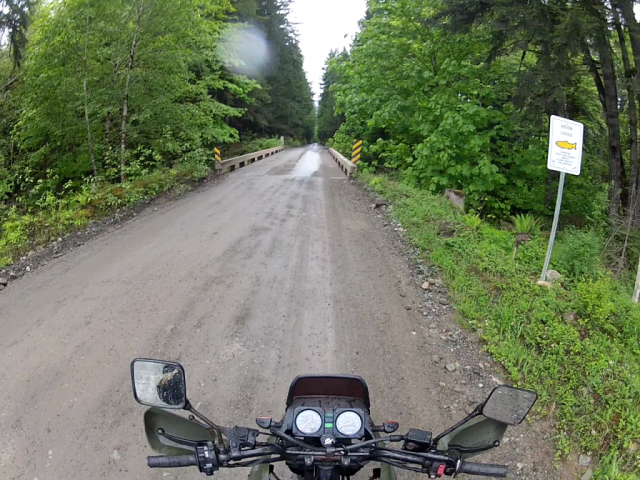 The initial 100 kilometers was mostly wet hardpan with potholes. Pretty standard stuff for a BC coastal logging road and not nearly as slippery looking as the video suggests
[youtube]http://www.youtube.com/watch?v=-Q6fwyQBjUk[/youtube]
(apologies for the logo off the freeware editor, it goes away after a minute)
It took about 2 hours and 45 minutes to get to Bamfield, which included a few stops for GPS/mapchecks and a chat with a bridge maintenance crew.
Much to my delight, Bamfield had asphalt, which starts about 6km out of town. Unfortunately, other than pavement and fuel, Bamfield didn't have much else to offer a traveller. Suffice to say there is no Tim Horton's in Bamfield.
The village lives in economic limbo because most of the commercial properties were bought by a developer in Calgary years ago and he's let them run to ruin and decay. So there are no open motels, restaurants or service stations. But there's fuel at $1.49 a litre and a terrific view of the inlet.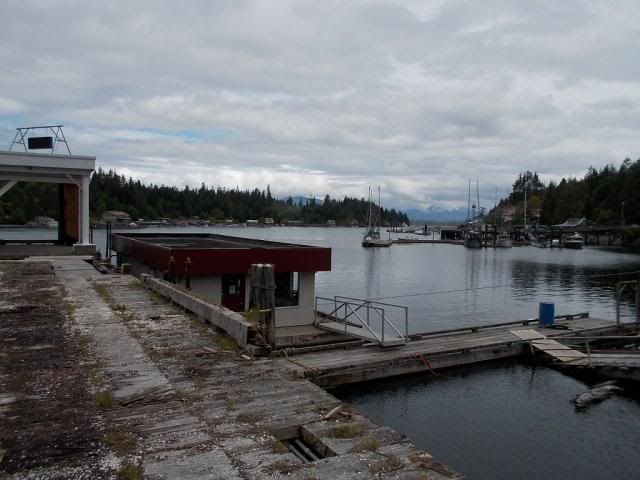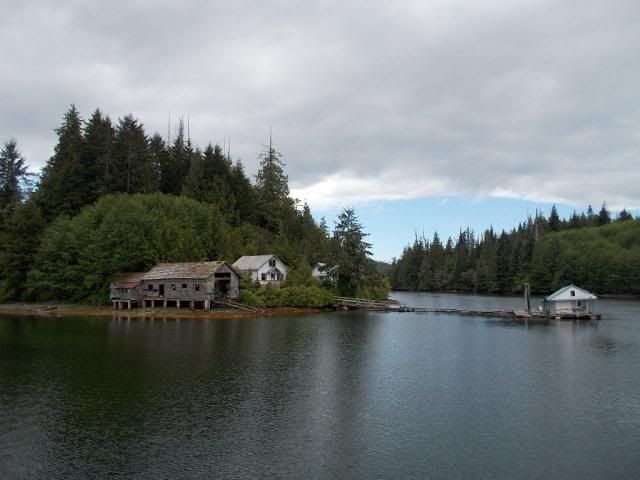 After refueling followed by a good half-hour's stretch and strollaround, it was back on the bike and the road to Port Alberni.
The 81 kilometers of dirt road to Port Alberni is usually heavily used by off-highway logging trucks, but there was no traffic yesterday. The road had been freshly graded, which meant they spread ball-bearing sized gravel along the hardpan and called it a day. It was pretty loose stuff and my front tire was determined to slither away for pretty much all of that segment. By the time I got to asphalt in Port Alberni, my shoulders and traps were aching from active steering.
I didn't linger in PA but passed right through intending to stop in Cathedral Grove. Unfortunately, the rain by Cameron Lake was absolutely torrential (as in it hurt as it hit) and I decided to keep going to my supper rendezvous in Qualicum Beach.
Supper with my Aunt & Uncle was a nice respite and I borrowed their dryer for my pants and shirt. My feet were in Gaerne's Balance Oiled boots and my hands were in Icon's Patrol gloves and I'm happy to recommend both products, as all four extremities remained warm and dry.
Following supper, I declined the generous invitation to the guest bed (although I was feeling my age by now) and started headed home. Since it's now illegal to stand up on the pegs in BC, I had to suffer butt cramps on the highway home but I did stop in Ladysmith (hometown of Pamela Anderson) for a stretch and coffee before the final 90 klicks.
The last leg was uneventful, and I arrived home to a lonesome cat about 14 hours and 500km after I'd begun. I'm happy to call the trip a success: the Big and I got to experience good roads, bad roads, sunshine and torrential rain – and all without mishap.
~ Chris